For those that haven't seen NFL.com and Reebok's promotions for fantasy football, check this out.
Now, we don't guarantee that our training aids will have you playing like these guys. That involves a whole lot of practice and a little bit of studio magic.
With football season in full swing, now's the time to put in the little bit of extra work to elevate your game to the next level. Football America has the gear to help you do it.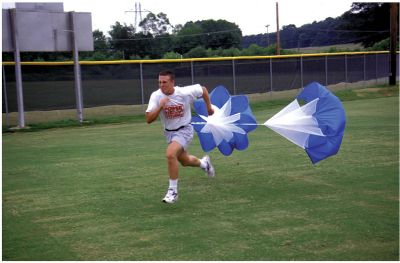 Build stamina and explosive speed with the Power Systems Power Chute. The chute helps players improve stride length and frequency while building leg strength and running power.
Get it for $44.99.
The Wilson Pro Kick is a must-have for any kicker. It can adjust to hold any size football at a range of tilts and heights for kicking practice. It'll cost $40 at some other retailers. Get it for $24.99 at Football America.
Resistance band training is a fundamental of many offseason football programs, and Nike's SPARQ bands are some of the best. With grip-friendly ergonomic handles and 15 to 25 pounds of resistance, the bands are a key component to any workout program.
These bands are $14.99.